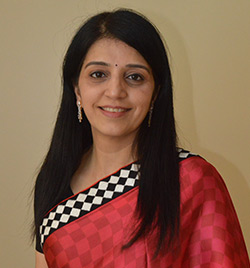 Jasmine Madhani
Head of School
"Challenges are what make life interesting and overcoming them is what makes life meaningful."
- Joshua J. Marine
Welcome to Jamnabai Narsee International School (JNIS)!
Despite the year 2020-21 being a year of unprecedented challenges, adversity and change, it has turned out to be another successful academic year, thanks to the resilience of our school community. We are grateful to the Managing Trustee and the Board of Trustees for their expertise, leadership, compassion and generosity that helped us navigate these uncertain times with courage and fortitude. Our special appreciation to Trustee Shri Sujay Jairaj for introducing the JN Co-op programme to provide the IBDP students with an unique platform to support their learning through real life corporate experience.
I take this opportunity to express my gratitude to the entire JNIS community of students, parents, teachers, the non-teaching staff, support staff, and our core team members for their perseverance, flexibility, adaptability and collaboration that enabled us to retain focus and support our students academically, socially and emotionally. 
The year gave us all an opportunity to consider all aspects of our work differently. It taught us how we could take advantage of technology, to be more flexible in meeting the needs of every student across age groups. With the help of our dedicated IT team and teachers, besides making an overnight switch to virtual classes, we were able to host virtual events such as the Independence Day, Teachers' day, Puniyathi, TEDx@JNIS, PYP Exhibition, MYP Personal Project Exhibition, Visual Arts Exhibition, inter-house sports and cultural activities as well as the Graduation Ceremony for the Class of 2021.  Nothing will take away the need for and value of the face-to-face connections but the creativity the JNIS community has displayed in working remotely to ensure normalcy under duress has been remarkable. 
We are incredibly proud of the IBDP Class of 2021 for achieving outstanding results. Adah Arora, Nihar Kapasi, Jash Jobalia and Kiara Gandhi topped with 44 points out of a possible 45 while Maahir Jain from IGCSE Class of 2021, secured 100% in the IGCSE March 2021 examination becoming a World Topper in Mathematics. He will receive the "Cambridge Outstanding Learner" award from Cambridge in November. Likewise, Sia Kusumgar with a score of 55 points out of 56 in the MYP eAssessment 2021 brings in laurels in the MYP division.  It gives immense pleasure to extend Congratulations to all our students for their achievements!   Going forth with academic achievements, our DP graduates have gained successful placements in prestigious universities in the US, UK, Canada as well as in India. 57 students out of 105 have received scholarships for their academic excellence. These include: Outstanding International Student Awards, International Awards of Excellence, Presidential Scholarships, University Excellence Scholarships, Provost Scholarships, Honours Scholarships, Creative Achievement Awards, Chancellors Awards, Global Perspective Awards, and Deans Scholarships. This could not have been accomplished without the dedicated guidance of the counsellors, teachers and unwavering support from the parents. Wishing the DP Class of 2021 all the very best for their future endeavours!
Just as the proverbial, every cloud has a silver lining, every adversity is an opportunity to demonstrate human resilience and spirit, our successful academic year bears testimony to this.
Jasmine Madhani
Head of School