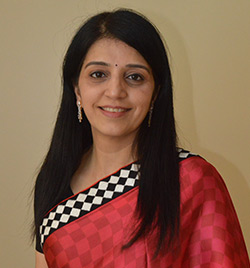 Jasmine Madhani
Head of School
"Challenges are what make life interesting and overcoming them is what makes life meaningful."
- Joshua J. Marine
Welcome to Jamnabai Narsee International School (JNIS)!
At JNIS, we are committed to provide an exemplary educational experience for our students that nurtures an international perspective developed through the challenging program of an International Baccalaureate. My goal at JNIS is to become an IB Continuum school - a school that offers the three IB programmes. Through the IB continuum, we aim to have a single educational philosophy across the whole school's approach to teaching and learning.
After successfully implementing the Diploma Program (IBDP) for more than a decade and IGCSE for the past five years, JNIS is now a candidate school for the IB Primary Years Programme (PYP) and Middle Years Programme (MYP). The PYP and MYP 'hands-on' approach enable students to make genuine, meaningful connections and interactions across traditional subject boundaries. Students learn to become much more proficient in critical reasoning and develop a greater sense of cultural awareness.
With the recent programme development by the IB, now MYP is more closely aligned to the DP in terms of curriculum, assessment and evaluation styles. The IB has started offering MYP e-assessments from May 2015 with a quick feedback to schools. Our teachers will now be able to more carefully diagnose their students' ability for various DP subjects ahead.
Central to these IB Programmes is the Learner Profile, ten attributes, which serve as a common ground for all IB students. They should strive to be: inquirers, thinkers, and communicators, risk-takers, knowledgeable, principled, open-minded, caring, balanced and reflective. These are noble goals for all of us at JNIS and we are looking forward to what will be an exciting journey for our students from Grades 1 through 12
Education is a continuous process, not long ago we termed the illiterate as those who cannot read and write. However, in the 21st century illiterates are those who cannot learn, unlearn, and relearn. With globalization and the rate of information flowing in this day and age, one must be prepared to shed outdated information and relearn to stay relevant. Hence, our school motto is "Preparing minds for a changing world". At JNIS, our students will receive a quality and well-rounded education to not just face the world but also be prepared to give back to their community, their school, and the world.
Jasmine Madhani
Head of School