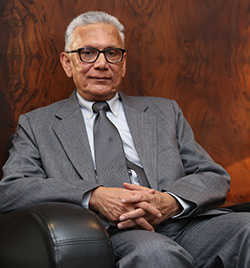 Jairaj C. Thacker
Managing Trustee
From the desk of the Managing Trustee
After the pandemic situation for almost 2 years (March 2020 to March 2022) schools have started offline for all the classes from 2nd March 2022. We can see children coming to school happily and having a wonderful time with their friends after yearning for it for a long time.
The hard work put in by our Head of School and all the staff members when teaching-learning was entirely online is commendable. So is the effort that was made to offer the school programme in a hybrid manner (online and offline) – which was not an easy task.
For students and parents too it was a challenging year but with their understanding approach, work was going on smoothly.
Special mention must be made of the IB/MYP/IGCSE students who secured admirable results in 2021 Board Examinations. 4 students who appeared for the IB Diploma Programme scored a staggering 44 points (out of 45 maximum possible) make to the top 4% in the world.
1 student achieved an outstanding score of 55 on 56 in the Middle Years Programme e-assessment.
1 student in IGCSE achieved a perfect score of 200 in Mathematics and was awarded the Outstanding Cambridge Learner Award for the world topper in the subject.
We also appreciate the work of the support staff and security as they were doing their duties with smiling faces through unexpected times.
I take this opportunity to thank our Parent Teacher Association for its support throughout the year.
Friends, we have learnt a lot in the past two years and I am sure we have become stronger mentally to face challenges in our lives. We have all learnt to embrace change an adapt to ever changing times with courage and resilience.
Best wishes to all of you.
Regards,

Jairaj C. Thacker
Managing Trustee