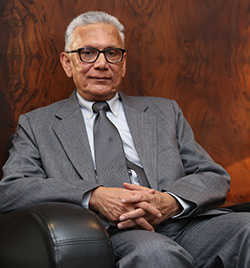 Jairaj C. Thacker
Managing Trustee
'Let learning be a joy and teaching a pleasure' is the philosophy of the Narsee Monjee Educational Trust since its inception in 1971. It has been our constant endeavour to provide a conducive environment for learning and development, keeping a pace with the rapid transformation around us. Jamnabai Narsee International School strives to create leaders capable of designing a roadmap for the future by adapting effectively to change.
It has been a great year at Jamnabai Narsee International School, Jamnabai Narsee School in Mumbai as well as Jamnabai Narsee School in GIFT City. The students have performed exceedingly well in academics as well as co-curricular and extracurricular activities.
It gives me immense pleasure to let you know that we have successfully completed the authorisation process for the primary years and middle years programmes and are the first school in Asia to have received both the authorisations simultaneously - hence we now offer the IB Continuum with PYP, MYP & IBDP.
I would like to congratulate and appreciate the effort of the Head of School - Jamnabai Narsee International School and Principal - Jamnabai Narsee School and their respective teams, the non-teaching and support staff for their dedicated service that has resulted in stupendous success in all the schools' endeavours
The untiring effort of our Parent Teacher Association and Jamnabai Narsee Alumni Association is appreciated. Their involvement that complements school programmes is commendable.
Education is the key contributing towards the planned development of our nation. With the current demographic situation in India, we continually aim at preparing young minds for future challenges. We believe that the objective of education is to prepare the young to educate themselves throughout their lives.
Best wishes

Jairaj C. Thacker
Managing Trustee